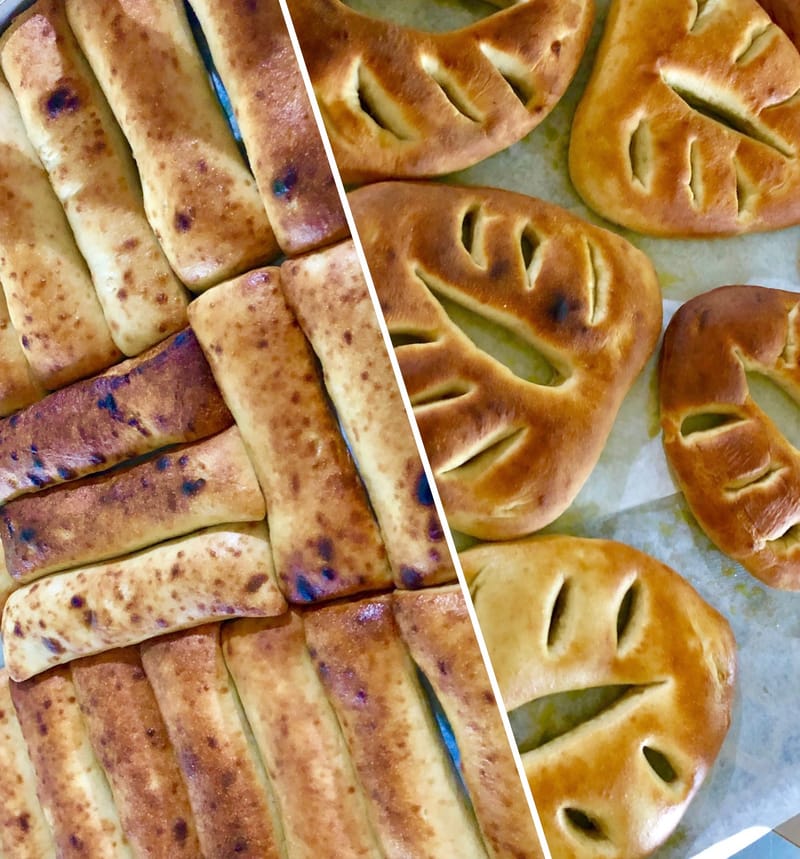 We offer a variety of classes at our Avalon shop and at our acreage near Pike Lake throughout the year.
At both locations, we offer
public classes
(preset dates and times for which you can register individually or as a group) and we can also arrange
private classes
(for groups of 5 or more).
Some classes (eg. bread baking) are only offered at our acreage, but most classes are available at both locations.
Classes held at the acreage can be combined with the
MYOP
(
Make Your Own Pizza
).
CLICK HERE
for MYOP info and pricing.
People
wishing to have the MYOP
with their public or private classes will need to register for an acreage class.
Anyone accompanying a public class registrant to an acreage public class who chooses not to take the class themselves may still enjoy the MYOP, however auditing the class is not permitted.
If you've selected a class at the acreage and would like to enjoy a beverage during the class, come a bit early and head to the restaurant bar to order. Our
sangria pitchers
are very popular and can easily be shared among 4 people - or not! We are fully licensed. This option is not available at our Avalon shop.
It's SO easy to register for a *PUBLIC CLASS!
Our fall/Christmas PUBLIC classes run from October to Christmas.
Watch this space for our spring/summer 2020 classes
. We can arrange to do PRIVATE classes anytime of year (see below). Our winter classes are offered in January and February.
To register, first choose a
date and class location
from the list below. Then
click on this link (or the link below) to send us an email.
In the subject line write "
REGISTER FOR A PUBLIC CLASS
" and in the email include your
name, phone number, the number of people that will be joining you (if any), the class name, date, location (either acreage OR Avalon) and if you would like to do the MYOP before the class. If doing the MYOP, please plan to arrive at least 1 1/2 hours before the class start time.
We'll try to respond within 24 hours with your confirmation.
Sample pictures & descriptions of all of the class projects can be seen in the section below by scrolling down.
No need to prepay for the class. You can just pay when you arrive.
*PRIVATE CLASSES
can be arranged any day of the week (morning, afternoon or evening) for groups of 5 (up to 120). The private class fee is $5 more per person than the public class fee. If you have less that 5 people in your group, a private class can still be arranged as long as 5 projects are made or purchased. For example, if there are 4 in your group, one person could make 2 projects or one person could buy the demonstration project for a total of 5 purchases. We can arrange a
private class
through email as well.
CLICK HERE
and write '
ARRANGE A PRIVATE CLASS
' in the subject line. We can also arrange the
MYOP
(
Make-Your-Own-Pizza
) along with your private class.
Click here
for regular MYOP pricing and info. The MYOP option is only available at the acreage.
SEND US AN EMAIL
CURRENT 2020 JANUARY/FEBRUARY 2020 CLASSES AT THE ACREAGE (
spring classes will be posted in March 2020
): For class pictures and more info go to the "Current January 2020 Classes Pictures and Info"section and be sure to click on the pictures).
The 2020 "Spruce Up Your Old and Tired Succulent Bowl" (aka the Power of the Sun) Class ($65) - Saturday, January 11, 19, 26 and Sunday, February 23 and March 1 all at 1 pm.
Cactus Pot (aka Prickles and Stings) Class (39.50) - Sunday January 12 at 2 pm
Artisan Bread Baking 2020 (each class $65 - includes the MYOP lunch): Saturday January 18 (Ciabatta)n and 25 (Baguette). Saturday, February 15 (Focaccia), 22 (Ciabatta) and 29 (Baguette). We will begin with the MYOP at 12 noon, followed by the class.
Valentine's Class (59.50 each) - Mom + daughter/son includes the MYOP (which is a fantastic deal!): Friday, February 14 at 6 pm


CURRENT 2020 JANUARY/FEBRUARY PUBLIC CLASSES AT THE AVALON SHOP (spring classes will be posted in March 2020):.


Cactus Pot (aka Prickles and Stings) Class (39.50) - Wednesday January 15 at 6 pm
Valentine's 10" Succulent Bowl Class (44.50 each) - Mom + daughter/son: Sunday, February 16 at 2 pm (candy included)!



SEND US AN EMAIL to register - solargardenclasses@gmail.com